Over the last year the vast majority of what I've written has been for children. I've been working on three picture book manuscripts which I recently had appraised and have now re-written and tweaked to be ready to submit to agents/publishers this autumn. I've also been writing limericks for an illustrated poetry book for kids that I'm in the process of compiling.
And it's been fun – I love writing for kids. But it does have its downsides. Quite apart from the fact that picture books and poems require endless hours of re-working, there's a lot I write that I just can't use because, well, it's simply not appropriate. Maybe it's just me with my wicked brain but sometimes the words take me down an entirely unsuitable path.
A case in point – one of my picture books is about a magic biscuit baker. I was writing a scene where the main character watches her fellow villagers going to his bakery and the affect it has on them:
But as the weeks went past she saw the others popping in
they went in with a frown but always came out with a grin
and everybody said how yummy all his biscuits tasted
'Is he baking them with weed?' She thought, 'they really all look wasted!'
Needless to say, this didn't make the cut!
Sometimes it's not that the subject matter is risqué, it's just not very child friendly:
There once was a fun-loving antelope
Who went to a dance on a party-boat
But while bustin' some moves
She slipped on her hooves
Right into the path of a motorboat
Poor old antelope eh?  Such a grim ending doesn't feel very kid-friendly (and to be honest the rhymes were awful anyway). Still, grizzly endings are probably better than inappropriate imagery:
There once was a lazy giraffe
Who'd spend hour upon hour in the bath
Till her skin would all shrivel
Top bottom and middle
"I look like a scrotum!" She'd laugh.
(no offence meant to scrotums of the world, I was just looking for a more interesting alternative to 'raisin')
So you see, in writing for kids I do lose an awful lot in editing. Maybe my next limericks (and picture books?!) will have to be for grownups?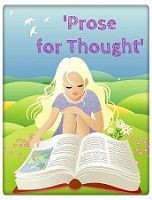 Share this: