It's Monday night – the time has flown, my weekly post is due,
I've not got much to write about…
No, wait, that's not quite true.
I'll tell you how I'm feeling now the new school term has started
– in truth I've been a mixture of elated and downhearted,
as my eldest son has taken to his new school like a pro
though my middle son has told me that he misses his big bro,
while my youngest took his first four days completely in his stride
but on the fifth day, he said "What? again?!" and clutched my leg and cried.*
What else?
Oh yes, my writing… well, last weekend was a blast,
so awesomely inspiring – my 'to do list' now is vast!
I'm determined to take action and submit, submit, submit
I know I'll get rejections, but the key is not to quit.
Apart from that…
My art – I've nearly finished my assignment!
two pieces are completed while the third just needs refinement
(that's really not exciting as I'm rather far behind
though thankfully my understanding tutor doesn't mind.)
So onwards!
With my mega-plan (I've made an epic list)
to knuckle down and focus now on all the things I've missed
And that means lots of time for friends and chats and cups of tea
for drawing and for writing, because f**king FINALLY
after nine whole years of parenthood I have some time for me!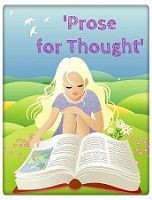 *I sat with him and built some blocks. He recovered (probably faster than I did).