I've tried to hit 2016 at a run, creatively speaking, by throwing myself into things and looking for inspiration all over the place. Social media has been immensely useful, particularly Twitter (there are so many creative challenges there! Who'da thunk it? Honestly, not me) and as always, the blogging community has provided me with both ideas and an outlet.
Yesterday I had a look at The Prompt (one of my favourite linkys) and discovered it was the word 'confusion'. So I figured I'd write a limerick based on that word. I also had a look at my favourite Twitter muse – #ShapeChallenge – to see if could use that as a visual prompt for both the limerick and an illustration for it. It was a double-pronged inspirational approach! I ended up writing and drawing this:
The reason it's about shoes (although, do I need a reason?) is because the shape (next to my twitter handle in the picture) reminded me of a shoe, and 'shoes' kind of rhymes with confused, so I went from there.
Which shoes would you choose? I'm going for the ones that look like ladybirds!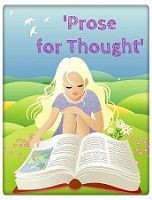 Digiprove sealCopyright protected by Digiprove © 2016 Victoria Welton