One of my favourite aspects of parenting (alongside hearing my kids learn to talk) has been watching their sense of empathy develop. Babies certainly don't come into the world as natural empaths, given that their initial survival depends on being almost entirely egocentric and letting us know what they need, LOUDLY, without a thought for the needs of anyone else.
Soon though, they learn the importance of smiling as a means of interaction (and of getting what they want) and, later, that talking is even better. But empathy probably comes a little way down the track due to their firm belief that the world revolves entirely round them. It was only very recently that my toddler stopped assuming that all and any pictures of babies were pictures of him. "Diddy!" (his name for himself) he would shout with delight pointing wildly at a picture of a blonde haired girl on the front of some nappies, or a brunette boy in a magazine. It didn't matter that they didn't look remotely like him – to his mind, all babies were most certainly him.
After a while though, children come to understand that others have feelings and that those feelings matter. This is something I've always been really keen to promote with all three of my boys. With our first son we were rather spoilt in this department as he's a naturally sensitive soul who very early on became aware of – and cared about – the feelings of others (both humans and animals). When he first became a big brother at the age of just turned two, his reaction on meeting his new sibling was to kiss him and give him his favourite toy elephant – it brings a lump to my throat just to think of it! These days (aged seven),when we watch a film as a family and there's an emotional scene in it I can guarantee that his eyes (alongside my own) will be filled with tears.
My second son learnt a lot from his brother and although these things didn't come to him quite as easily, he has always been concerned with the welfare of babies. He really can't bear any sort of mishap to befall them.
Most of the time, I love these qualities in my sons. A few weeks ago though, the three of them got nits (yuck) which necessitated a swift application of that horrible oily shampoo stuff. This should have been a reasonably straightforward (if messy) process but I encountered severe resistance when I (foolishly) let slip that the greasy goop was to kill the nits. "Kill the nits? KILL them?!" said son no. 1 in shock, "You can't do that, it's wrong! It's killing wildlife!" Sigh.
Things got worse when I had to repeat the oily-hair process a week later to ensure that all the lice eggs had been got rid of (otherwise they could all hatch out again – I know, it's truly lovely). "Lice eggs? You want to kill the nit babies? You can't kill babies!" Said son no. 2 in horror. I think he imagined his hair full of miniature, cute, smiling baby-bundles. I had to do some powerful persuading in order that round two of the 'wildlife massacre' could go ahead.
I'm hoping that the nits are gone for good though as I suspect next time I would have three little people standing up for the rights of their disenfranchised pests, given my youngest is now learning all about empathy too. The other day when his big brother was crying he toddled over to him and started stroking his back, "Alright Doda?" he said repeatedly (Doda being how he pronounces his big brother's name). My eldest was very touched and it definitley helped dry his tears up. A few days later, sitting in his highchair the toddler heard his big brothers bickering in the next room. When they both started crying he tried to clamber out of his seat saying "I help brubbers!" I had to let him loose and he rushed through to administer cuddles (whereupon another fight nearly broke out as both his brothers wanted to cuddle him first… but let's gloss over that).
If I can ensure my sons grow up without losing this capacity to care for others then I will have achieved one of my main parenting goals. For my lovely, caring boys to grow into loving, empathic men, well, what more could a mother hope for?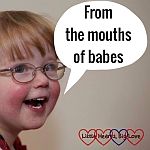 Also linking up with The Prompt which, this week, is 'presence' (because of the presence of empathy in my boys – I know, it's a tenuous link!)